Remote control
<![if !vml]>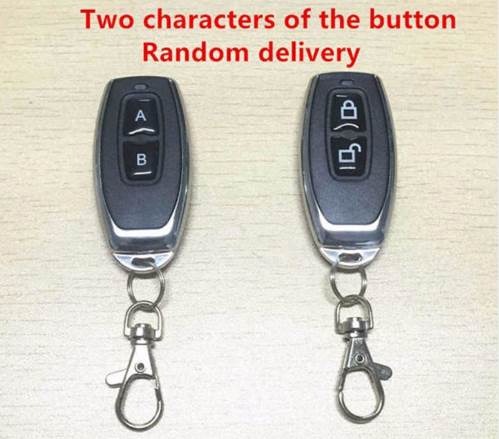 <![endif]>
The LapMaster unit has a wireless receiver build into the unit.
This works with a transmitter as displayed in this image.
The configuration as delivered has the top button ("A") of the transmitter set up to controls the LapMaster program.

The remote activates or releases the "Track call" status. That is it stops the race, cuts power and holds the countdown timer. When released, the LapMaster executes the starting sequence, announces the countdown to race, and turn power back on as well as continuing the countdown clock.
"Track call" called from the keyboard can be restarted from the remote by pressing "OFF" followed by "ON".
However "Track call" called from the remote must be cancelled from the remote. Otherwise the remote control would get out of sync.

You can also halt the timed intermission countdown by use of a "track call" from the remote.
Finally, it is also possible to do a Remote Start when the system is in the "Manual" state. Just click the "OFF" and then the "ON" button of the remote control.
Configuration and battery exchange
The bottom half of the remote can be opened to exchange the battery.
In this compartment you will also find the 5 encoder switches which must match the encoding in the receiver. As delivered, the system code for the remote is off-off-on-off-off.
Please observe that it is easy to accidentally change this setting when closing the lid
In the receiver you will find a 10 position encoder switch.
The first 5 is the system code, and must be set the same as the transmitter.
The next 4 indicates the button "A" to "D" and the last is not used.
The default setting for the receiver is therefore off-off-on-off-off-on-off-off-off-off (All off except 3 and 6).
If you have multiple tracks with LapMaster installed, you can change the system code on one unit so that they do not interferes.
E.g. Transmitter: off-on-off-off-off and receiver off-on-off-off-off – on-off-off-off-off
Alternatively you could control one track on the "A" button and the other on the "B" if you chose.
In that case use:
Transmitter: off-off-on-off-off
Receiver (track-A): off-off-on-off-off – on-off-off-off-off
Receiver (track-B): off-off-on-off-off – off-on-off-off-off