WEB Access / WEB Publish
WEB Access or WEB Publish is the process of displaying the on-going race on your home-page on the internet, either in real time as "LiveTiming", or just to publish the final race results at a single click of a button.
You should also note that there is an option in the Advanced setup options called "Auto publish".
What this feature does is to automatically post race results and statistics to your website at end of race. It also creates and maintains an index page of these stats and results.
The index page itself can be found from a link provided on the "LiveTiming" page.
Note: Before you use WEB publish feature, you need to enable the "Dynamic Scoreboard" in the Program setup
It is the scoreboard that are mirror on the WEB, and without it, no data will be displayed.
<![if !vml]>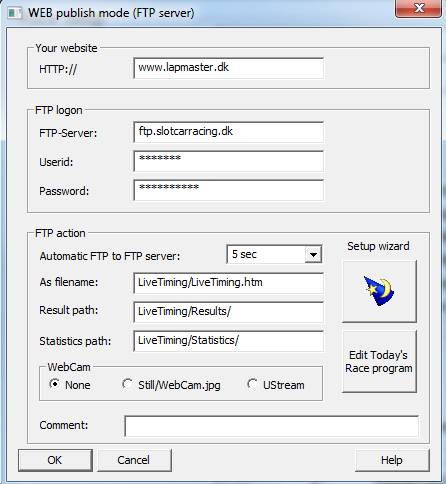 <![endif]>
WEB Publish mode (FTP server)
If you or your club own a home page on the Internet, it is almost certain that you have FTP access to the server that hosts your homepage.
If you provide the required FTP information to LapMaster, you will be able to upload status and results by a simple click of a button.
Actual you don't even need to click a button, but we will get back to that in a moment.
The Information you need to provide is:
            Your website – This is the URL for your web-page. A sample could be "www.LapMaster.dk"
            FTP-Server    - The name of the FTP-server associated with your home page. This name is provided by your internet provider.
            UserID:          - Your userid for logon.
            Password:      - The password is not displayed, but LapMaster remembers it and uses it for logon.
Caution: A malicious user of LapMaster might misuse this capability to damage your WEB-Site.
Use your common sense and your own judgement to determine if you want this feature to be available, and will trust LapMaster and its users, access to your website.
The password itself will not be readable by users of LapMaster.
            As Filename  - This indicates the filename your will be using for upload. It might contain subdirectory navigation, but the directories must exist beforehand.
Note: You will need to provide links from your existing pages to the new page for people to be able to navigate to it.
This will not be done by LapMaster, but of cause you can provide dummy links beforehand, that will become active as you upload data.
            Result path   - This indicates the path that will be used during upload of Result data.
            Statistics path - This indicates the path that will be used during upload of Statistics data.
Note 2: As a special feature, if you provide a filename/Result-path/Statistics-path that starts with a drive letter specification (Like "C:\"), then the data will not be send by FTP, but stored locally with the specified path and filename. It will still be in the HTML format.

<![if !supportLineBreakNewLine]>
<![endif]>
With the basic logon information, you can now use the "Save on WEB" buttons on the result page to publish the result at a simple click of a button.
However you can do much more than that. Actual you can display the running status in real time by using the "LiveTiming" capabilities.
Automatic FTP to FTP Server:  (LiveTiming) - Now here it becomes extremely interesting.
You can ask LapMaster to log on to your FTP-Server and update the data at regular intervals. However LapMaster will only log on if it has data to update.
<![if !supportLineBreakNewLine]>
<![endif]>
What can we use this for you might ask?
Well, actual you can display live status from your race, by uploading a few files, and simply filling out these 5 data fields. That's it !
Tell you friends the filename you will be using, or provide a public link to it from your existing homepages, and you are ready to go with live broadcast. ! 
You can select the upload interval of 5 sec, 10 sec, 30 sec, 1 minute or 2 minutes. Use the 5 seconds option with care. It takes some internet connection resources to run at 5 sec interval. Normally 10 seconds would be just fine and still provide a good sense of "real-time".
[ The following section is obsolete, use the SETUP WIZARD to do this for you. This information is maintained for reference only.]
To make it easy, follow these guidelines:
As a preparatory step for setting up a "liveTiming" session, you should create the following directory structure on your webserver:
            LiveTiming
            LiveTiming/Results
            LiveTiming/Statistics
Then upload the following files from "c:\LapMaster\Multimedia" to the "LiveTiming" directory on your webserver:
                 GetLapMasterInfo.php
                 LiveTimingLoader.htm
If you are not planning to use the UStream setup, then also copy index_LiveTiming.htm and rename it index.htm.
If you are planning on using the live video UStream setup, then you should also upload the following files to the LiveTiming directory on your webserver:
index_UStream.htm and rename it index.htm
            LiveTimingLoaderUStream.htm  
                 UStreamLink.htm (*)                     
Before upload you must modify this file to include the embedded code provided by UStream for including the video stream and the chat on this page.
                 RacewayDescriptor.htm (*)
                             Before upload you must copy and modify this file with the name and contact information for your raceway.
(*) Since these files are modified for local use, they are distributed in the "LapMaster/Multimedia/Factory" folder.  Copy them to "LapMaster/Multimedia" before modification to avoid your updates to be overwritten by future LapMaster version updates.
From your ordinary pages, provide a link to the LiveTiming, something like:
<a href="LiveTiming/index.htm">LiveTiming</a>
                                                And finally, the predefined setup assumes that you will be uploading to: LiveTiming/LiveTiming.htm
If you want to make your own web page layout for the LiveTiming display:
You can customize or make your own web pages by modifying or replacing the models "ScoreBoardHeader.htm", ScoreBoardLine.htm" and "ScoreBoardFoot.htm" in the "c:\Program Files\LapMaster\Multimedia" folder.
(At first use LapMaster will copy the defaults from the "c:\LapMaster\Multimedia\Factory" folder if not found in the multimedia folder.)
In case you do make your own, there are a couple of items you need to be aware of.
The user needs to "refesh" the display at regular intervals to see your newly updated data.  
There are several options for having the browser automatically fetch the updated page at regular intervals.
The most simple is to include a line of code in the "Lapmaster\Multimedia\ScoreBoardHeader.htm" model, that will cause the page to update.
     Either:  <SCRIPT type=text/javascript>setTimeout("location.reload()",[REFRESH]000);</SCRIPT>
     Or :     <meta http-equiv="refresh" content="[REFRESH];URL=LiveTiming.htm">
Note 1:    LiveTiming.htm must be the name of the uploaded page or the name must be replaced in the META statement.
[REFRESH] will be replaced by LapMaster for a suitable interval matching the selected update interval.
WebCam :   -  If you check the "Still/Webcam.jpg" box, LapMaster will use the "ScoreBoardHeaderWEBCam.htm" as model rather than "ScoreBoardHeader.htm".
Also LapMaster will upload the image stored in  "C:\LapMaster\MultiMedia\ WebCam.jpg" together with the data. You can use a free program such as "FWINK", found on the internet, to take a picture from a webcam at regular intervals and store it here. This will display "Live" updated images from the race along with the result.
Also when this option is checked, data is transferred to your home page at the specified intervals, regardless if LapMaster has new timing data to display or not.

- if you check the "None"  (or "UStream"), LapMaster does nothing with respect to WebCams.

- To setup a "UStream" system you need to do a few extra steps.
www.UStream.tv is a free service on the internet that allows you to stream real time video and sound from your webcam, and even record this for later playback. The UStream organization is not associated with LapMaster in any way.
However it is possible to take advantage of this free service and integrate it all into a very nice setup with real time webcam and sound, chat-board and LapMaster live timing on one page. This looks and works fantastic.

You will need to sign up to UStream and get a free account to use their system. Broadcasting from there is extremely simple and can literately be done by 2 clicks once you have an account.
Once signed up, they will also provide you with a display box of code that you can clip and paste into the LapMaster "UStreamLink.htm" module. Same for the chat-board feature.
You find the "UstreamLink.htm" in the "LapMaster\Multimedia" folder on your system. When modified, you need to upload it to the "LiveTiming" directory on your webserver.
You should also modify the "LapMaster\Multimedia\RacewayDescriptor.htm" with the name and contact info of your raceway, and then upload this to the "LiveTiming" folder on the server as well.
Finally upload the "LapMaster\Multimedia\ LiveTimingLoaderUStream.htm" to the "LiveTiming" folder on your webpage, and rename it "index.htm".

Only step left is to provide a link from your own pages to "LiveTiming/index.htm" and you are ready to go !

Note 2: You will need an approximate minimum of 100 KB upload speed to run real time video. If you reduce quality and frame-rate you might get by with 64 KB upload speed.
Note 3: You might consider running the UStream part on a separate computer as not to compromise the race computer in case something's goes wrong and locks up.
Comment:       - Any text comment you want to be displayed together with the AUTO generated page.
Setup Wizard:
The setup wizard helps you copy and modify the required files for doing the website setup.
Follow the prompt and guidance of the wizard.
A basic understanding of HTML is helpful for making this setup.
Edit Today's Race program:
The LiveTiming contains a page that is intended for you to publish your time schedule, so that spectators might know when to follow your webcast.
Pressing this button, you get to edit the text, This page will then be uploaded automatically for you.